5th UGent Data Science Seminar with Prof. Claire Monteleoni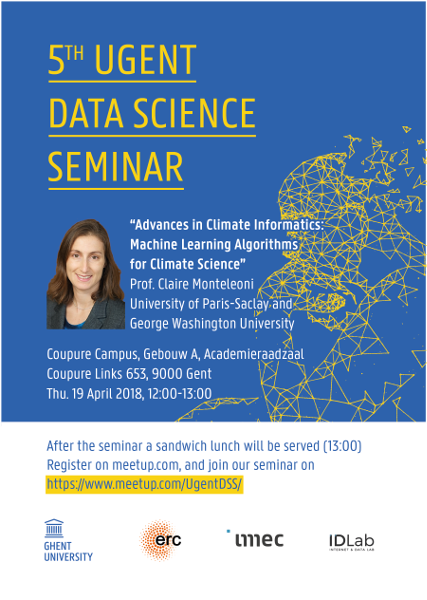 Prof. Claire Monteleoni (University of Paris-Saclay and George Washington University): Advances in Climate Informatics: Machine Learning Algorithms for Climate Science
Abstract
The threat of climate change is one of the greatest challenges currently facing society. Given the profound impact machine learning has made on the natural sciences to which it has been applied, such as the field of Bioinformatics, machine learning is poised to accelerate discovery in climate science. Our recent progress on Climate Informatics reveals that collaborations with climate scientists also open interesting new problems for machine learning. I will give an overview of challenge problems in climate informatics, and survey work from my research group in this nascent field. I will center the discussion on machine learning algorithms for combining the projections of the multi-model ensemble of global climate models that inform the Intergovernmental Panel on Climate Change (IPCC).
Bio
Claire Monteleoni is a Jean d'Alembert Fellow at the University of Paris-Saclay, hosted by CNRS, and an Associate Professor of Computer Science at George Washington University. Previously, she was research faculty at the Center for Computational Learning Systems, at Columbia University. She did a postdoc in Computer Science and Engineering at the University of California, San Diego, and completed her PhD and Master's in Computer Science at MIT. She holds a Bachelor's in Earth and Planetary Sciences from Harvard. Her research focuses on machine learning algorithms and theory for learning from data streams, spatiotemporal data, raw (unlabeled) data, and private data, and applications with societal benefit. Her research on machine learning for the study of climate science received the Best Application Paper Award at NASA CIDU 2010, and helped launch the interdisciplinary field of Climate Informatics. In 2011, she co-founded the International Workshop on Climate Informatics, which turned 7 in 2017, and has attracted climate scientists and data scientists from over 19 countries and 30 U.S. states.
After the seminar a sandwich lunch will be served for registered participants to continue discussions.